Sigo muitos blogs, confesso. O
Bloglovin
diz que sigo 117 blogs e não está a contar com Tumblrs, porque afinal Tumblr também entram na categoria de blogs....certo?
Eu sou picuinhas com blogs. Gosto quando eles são mais pessoais, quando as pessoas escrevem bem, quando mostram um estilo de roupa diferente, quando são simpáticos para os
followers
e quando postam sobre coisas que no geral me interessem. Se alguém só posta
outfits
, sem nada escrito ou então como "Hoje fui visitar a minha avó e vesti isto, espero que gostem." deixa-me logo de interessar, lamento.
Reviews
de produtinhos e restaurantes (e publicidade descarada) constantes também não me interessam.
Portanto todos os meus 117 blogs que leio no bloglovin têm algo que gosto mas aqui estão os meus favoritos (sem ordem de preferência):
I follow lots of blogs. My Bloglovin says I follow 117 blogs and I'm not counting with Tumblr.
I'm very picky with liking a blog or not. I like personal, well writen blogs. I like bloggers with a different style of fashion, I like when they are always nice to their followers and when they post things that may interest me. If a blogger only posts outfits without even a description it's a no-no for me. I kinda hate reviews of stuff in every post like it wasn't even a blog but an advertise place in internet.
So my favourites from the 117 (and more) blogs I follow are (the order is not important):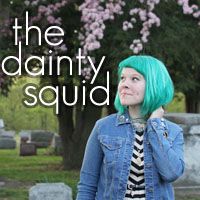 Oh adoro a Kayla, o seu estilo retro e os seus interesses que podem ser creepys para alguns. Ela inspira-me muito e foi graças a ela que decidi também fazer uma colecção de coisas diferentes / bizarras (não sei como chamar). É simpática, tem bom gosto e adora animais. Tira fotos lindíssimas e tem uma obsessão esquisita por dentes. E o design do seu blog é tudo o que eu queria ter num blog e mais!!!!!
I love Kayla. I like her retro style and her kinda creepy interests. She inspires me very much and it was thanks to her that I started my oddities collection. She's also very nice, has good taste and she loves animals. She takes beautiful photos and has a weird obsession with tooth. Her blog design is everything I want in a blog or more. Ah!
Falando em inspiração eis Daisy Lola. Sendo mais nova que eu confesso que a vejo muito acima de mim. Escreve bem, a meu ver. Diz o que acha que tem de dizer, caga-se para a opinião que os outros têm dela e faz o lhe apetece. Está a tirar o curso de jornalismo e publica já nalgumas magazines online. Sigo-a porque gosto maior parte das opiniões dela, do seu estilo de se estar a cagar, das suas
life lessons
e daquela arrogânciazinha que os míudos inteligentes têm porque pensam que sabem mais que os outros.
Claro que ela é controversa no Tumblr pelas razões que acabei de escrever mas também porque posta fotografias nua (e porque pôs silicone e falou disso abertamente). Eu gosto muito dela. Sei que é miúda, que as opiniões dela ainda vão mudar muito, que talvez o seu nariz baixe um bocadinho mas no entanto adoro o que escreve e por isso sigo-a!
Talking about inspiration. This is Daisy Lola. She's younger than me but she writes amazing stuff. She's unapologetic, she does and says wtvr she wants and doesn't care for what do you think of her. She's almost a journalist and she writes for some online mags. I like some of her opinions, her "I don't give a fuck" style, her life lessons and that little arrogance that young smart people have.
She receives some hate on Tumblr because of the things I just wrote about and also because she posts nudes. But I like her very much and I love reading what she writes.
3. The Nancy Wilde Experience
Obviamente que o blog da Nancy tinha de estar aqui!!! Além de ser minha amiga ela tira boas fotos, faz comidas que dão àgua na boca, escreve maravilhosamente bem, tem bom gosto musical e blá blá blá elogios blá blá blá!!
Obviously my friend's blog would be here! She takes great photos, she posts amazing recipes, writes like a master and has an impecable music taste. Ahahahah! Yeah it's just great stuff on her blog so go and follow her!
4. The Clothes Horse
Fui introduzida muito recentemente pela Nancy a este blog. Ela tem um estilo que adoro, tira fotos bonitas e lá está, escreve minimamente bem. Blog simples e querido e o background dela é de morrer! Gosto!!!
I was introduced to this blog by Nancy very recently. She has a style that I love and takes beautiful photos. It's a simple and cute blog. Her background is to die for! I like it!
5. They call me Redhead
Cheguei ao blog dela pelo Lookbook e posso garantir que foi um dos primeiros blogs que comecei a seguir e já lá vão...quê? Três anos? Talvez mais....não sei bem. Confesso que já gostei mais do blog, tornou-se um pouco repetitivo, mas adoro os outfits dela, a cor perfeita do cabelo, a Melle que é a coelha mais fofa ever e o jeito querido de ela ser.
I got to this blog thanks do Lookbook. It was one of the first blogs that I started following three years ago. I have to say that I used to love this blog but now I find a little repetitive. It's still on of my favourites though! I love her outifts, her perfect hair colour, her bunny Melle and how sweet and cute she is.